Cold-pressed Extra Virgin Olive Oil from the Heart of Umbria.

OLIVE OIL READY-TO-SHIP
A late spring frost had us nervous about our olives but we are happy to report that the trees rebounded during the spectacular summer season. A great year with a very fruity olive oil as a result. We grow three qualities of fruit: leccino, moraiolo and frantoio--the types you'll find in every Umbrian's back (and front) yard. We pick very early in October. By hand. Then we haul them by tractor over to Giovanni's spotless mill for a cold pressing. This year's crop is delicious: a concentrated, fruity olive oil with the famous Umbrian peppery kick at the finish.

This is the freshest you'll find--it is one month "young".  Check your labels, we are Harvest 2018! We offer 250 ml, 500 ml and 750 ml tins ready to ship directly to you or to friends.

Our 2018 extra virgin olio di oliva has arrived!

Grown with pride and care in Umbria, Italy.                                                                                                                 
•Extra virgin, cold-pressed
•Certified organic
•A blend of moraiolo, frantoio and leccino varietals



2-3 day Shipping by USPS: $13 for 4 small tins, or up to 3 medium tins or 2 large tins. $18 for 6 tins or more.
250 ml round tin:  US $18 
Sorry, we are sold out of our 750 ml tin.
500 ml round tin:  US $30 
Sorry, we are sold out of our 750 ml tin.
750 ml round tin:  US $40 
Sorry, we are sold out of our 750 ml tin.
Agri Segretum Wine + Water Jugs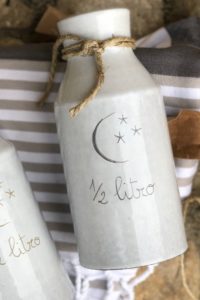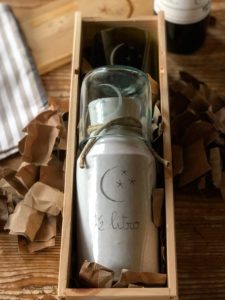 We've got a new jug here in Umbria that we use for wine tastings and for guests at The Farmhouse. A take on the traditional jugs you'd find in any local osteria, our ceramic pitchers are turned and painted by hand by an artisanal workshop in the nearby village of Deruta.Two glasses made from our own recycled wine bottles (and engraved with our moon and stars logo) are included.
Packaged in our new wooden wine box, we think these look bellissimi.
1/2 liter jug, 2 glasses in a handmade wooden Agri Segretum box :$65
Sorry, we are sold out of our Wine + Water Jug.