Cold-pressed Extra Virgin Olive Oil from the Heart of Umbria.
READY-TO-SHIP
A long, hot summer and careful tending promsied a bumper crop of olives here in Collazzone. October found us back in the groves with nets and rakes as we picked our olives. We grow three qualities of fruit: leccino, moraiolo and frantoio--the types you'll find in every Umbrian's back (and front) yard. Once picked, we hauled them by tractor over to Giovanni's spotless mill for a cold pressing. This year's crop is delicate, bright green with the classic pungent Umbrian bite....a delicious extra virgin from deep in the heart of Umbria.
We offer 250 ml, 500 ml and 750 ml tins ready to ship directly to you or to friends.
Grown with pride and care in Umbria, Italy.                                                                                                                                         •Extra virgin, cold-pressed
•Certified organic
•A blend of moraiolo, frantoio and leccino varietals
250 ml round tin:  US $15
500 ml round tin:  US $26
750 ml round tin:  US $35
DERUTA CERAMIC POT + 500 ml of La Segreta Olive Oil
Wo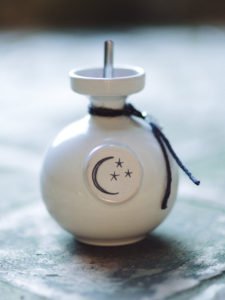 rking with our friends from Deruta, we designed La Segreta's very own olive oil pot. Made by a family of artisans producing majolica for generations: you'll still find father and daughter painting together in the workshop. Turned by hand and painted by hand, our beautiful ceramic pot holds up to 500 ml of oil. (And our 500 ml tin is included with every pot.)
Would you like mix sizes or to send to various addresses?
Contact us here for ordering information and shipping costs.
We accept personal checks, MasterCard, VISA and American Express.If you don't have a PayPal account, simply select the "Pay with a debit or credit card..." option under "Choose a Way to Pay".